About Thassos Island
Thassos Island, the northernmost island of Greece is 16 nautical miles away from Kavala. You can reach the island of Thassos with a Flying Dolphin hydrofoil from Kavala or ferry from Kavala, Keramoti, Nea Peramos. The arrival ports in Thassos Island are Prinos and Limenas. Limenas is the capital city of the Island and the main port of Thassos.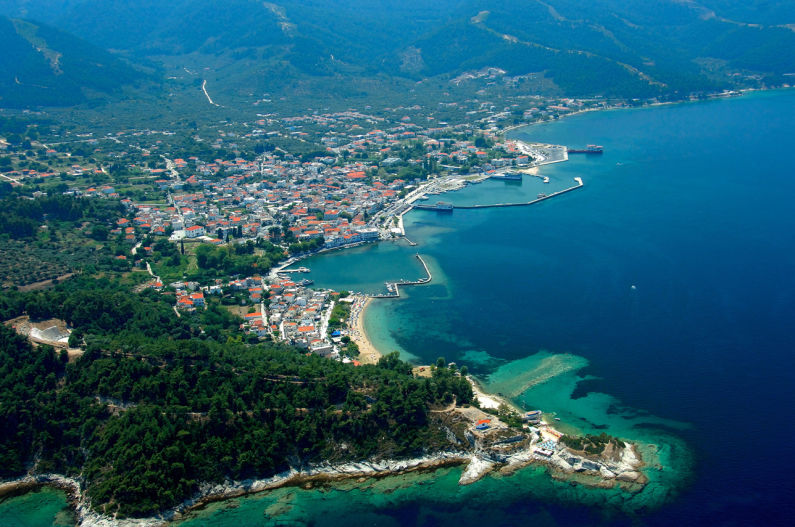 Thassos island has a perimeter of 115 km, being surrounded by rich vegetation and many pristine beaches, thus making it a special and clear destination for vacation.
The island has an area of ​​378.84 km ² (22 km E-W, 26 km N-S) and boasts five peaks over 1000 meters altitude.
Thassos is covered in greenery with densely forested zones with pines, planes, oaks, bay, chestnut and myrtle; its forests cover approximately 8/10 of the surface.
The island coast offers many sandy beaches, sought by tourists.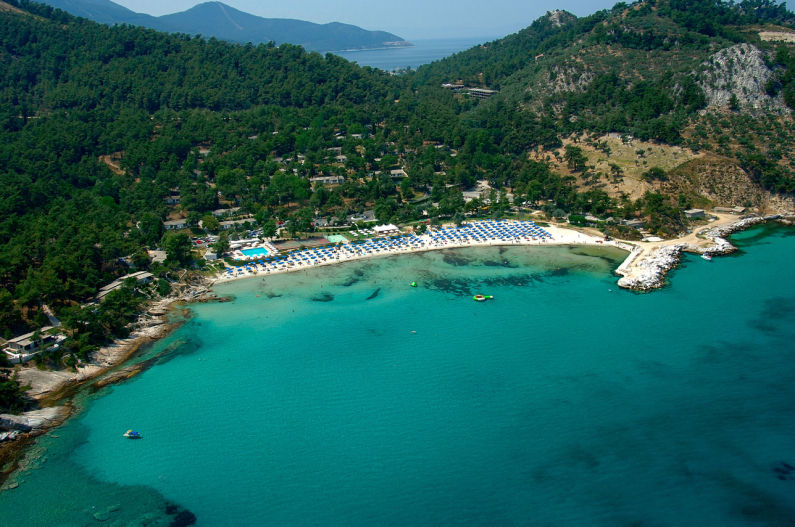 ~ From Myth to History Greece Thassos ~
Thassos island was inhabited for the first time during the Neolithic era by Phoenicians. As the myth tells, the Phoenicians founded cities at each region they passed through while searching for Europe, their leader's sister that was kidnapped by Zeus by transforming himself into a white bull, mad with love for her.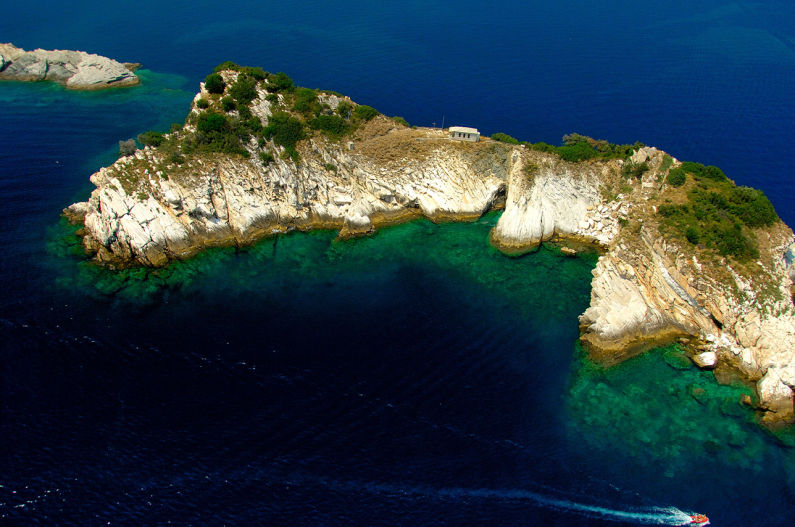 Later, Thracians settled in Thassos island and acquired power by exploiting the rich local mines. These mines arouse the interest of the Ionians from Paros who captured Thassos island at the beginning of the 7th century BC.
The Thassians moved on rapidly and founded colonies in the nearby region. During the Archaic era, Thassos had a great power and maintained trade activities with the whole Greek world.
During the Persian Wars, Thassos island was subordinated to the Persians, who coerced the Thassians to demolish their marvelous marble walls. During the Peloponnesian War, Thassos island became the "apple of discord" between Athens and Sparta. During the 2nd and 1st century BC, under the protection of the Romans, Thassos island burgeoned tremendously. Although the mines had already been exhausted, Thassos island realized important exports of marble and wine. In 42 BC the assassins of Julius Caesar, Cassius and Brutus, established their depot on Thassos island. During the Bizantine era, Thassos island was plundered by the Avars and the Saracens.
After the capture of Constantinople by the Crusaders in 1204, Thassos island was conceded to the elder Venetian doge, Enrico Dandolo. However, Thassos island rapidly was incorporated into the state of Thessaloniki, founded by the Byzantine Despot of Epirus, Theodoros Doukas Agelekomninos. Later, after the re-capture of Constantinople by Michael Paleologos, Thassos island became again a part of the Byzantine Empire.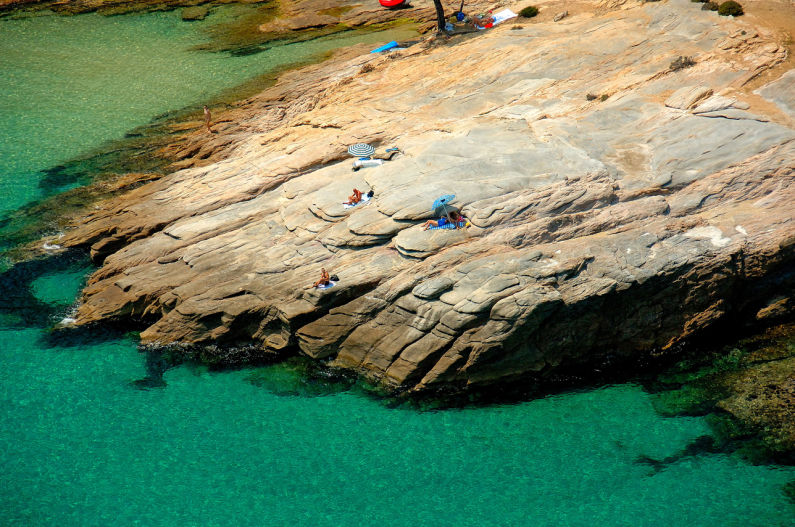 In 1354, the Byzantine Emperor Ioanis Paleologos conceded Thassos island to his Genoese ally, because he helped him to defeat his internal opponents. The Gatelouzos family ruled one way or another till 1455 when the leadership of Thassos Island was taken by the Turks. In 1770, Orlof's Russians captured Thassos island, while in 1813 the sultan conceded Thassos island to the Turkish-Egyptian Mehmet Ali. Mehmet Ali, the founder of the Egyptian Royal Dynasty was raised in Thassos island. Thassos citizens rebelled in 1821, but the revolution did not meet any success. In 1902 the Turks dominated again Thassos island.
During the Balkan War Of 1912, The Greek army took over Thassos island, which belongs since then to Greece. In 1916, during the first World War, Thassos island was conquered by the Entente Powers. From 1941 till the end of the Second World War, Thassos island was under the Bulgarian occupancy.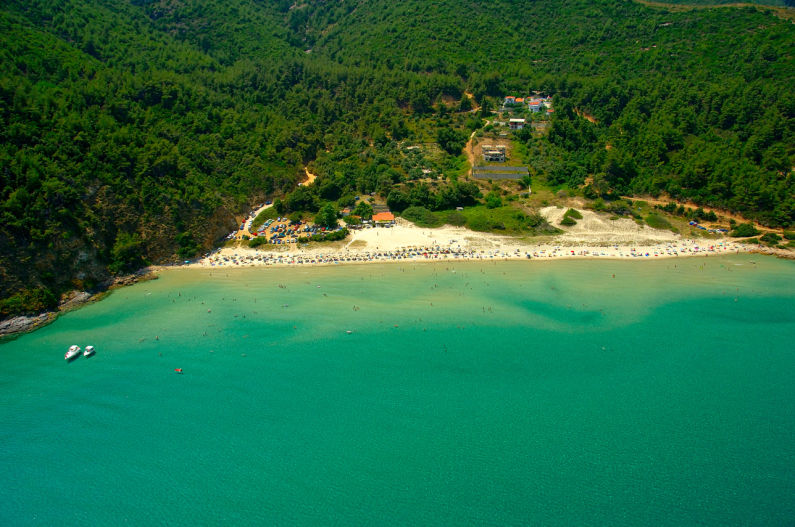 ~ Thassos City and Coastal Settlements ~
The city of Thassos or Limenas is the capital of Thassos island. Thassos is a modern, international tourist center. Thassos also has a marina for the mooring and replenishment of small vessels, at the same time Thassos is also a base for the outset of an around island tour by bus or ship.
Other places of accommodation in Thassos island are : Panagia, Potamia, Kinira, Alyki, Astris, Potos, Limenaria, Theologos, Maries, Kallirachi, Prinos, Sotiras, Mikro and Megalo Kazaviti and Rachoni.
All villages in Thassos except Limenas, Limenaria and Kinira have a seaside housing estate, their "Skala ………".
Limenaria with the housing estate Kalyves consist of the second largest town of Thassos island. The town was developed, in the medieval period, in the Kastro area, in order to cover the needs of the mine workers. In 1903, the German company Spindel came to Limenaria to exploit the iron minerals of the area. The "Palataki" ( Little Palace) dominating on the hill above Limenaria is one of the projects built during that period, operating today as a cultural center.
Thassos island sea transport is covered by the ports of Limenas, Prinos, Skala of Kallirachi and Limenaria. On the entire length of Thassos island coast, especially in large settlements there are hotels, villas for rent, restaurants, taverns, bars, souvenir shops for the pleasant sojourn of the visitors.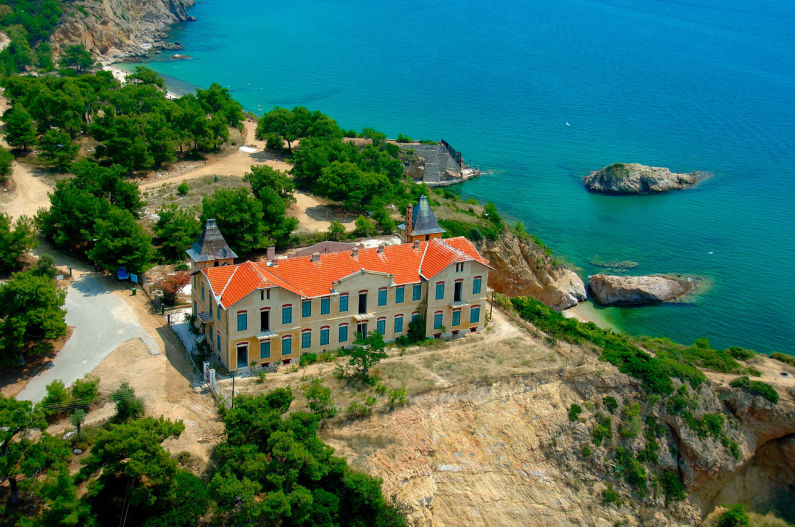 ~ Beaches and sea activities ~
The Beaches of Thassos that the visitor may meet when beginning the island's tour, from Limenas and continuing eastwards, southwards, westwards and then northwards, are : Makryammos, Skala Panagias and Chrysi Ammoudia, Chysi Akti, Skala Potamias, Kinira, Paradisos Beach, Alyki and Astris Beach, Psili Ammos Beach, Potos, Pefkari Beach, Skala Marion, Limenaria, Trypiti, Skala Kallirachis, Skala Sotira, Skala Prinou, Dasyllio Prinou, Skala Rachoniou, Pachis Beach, Papalimani, Glyfada.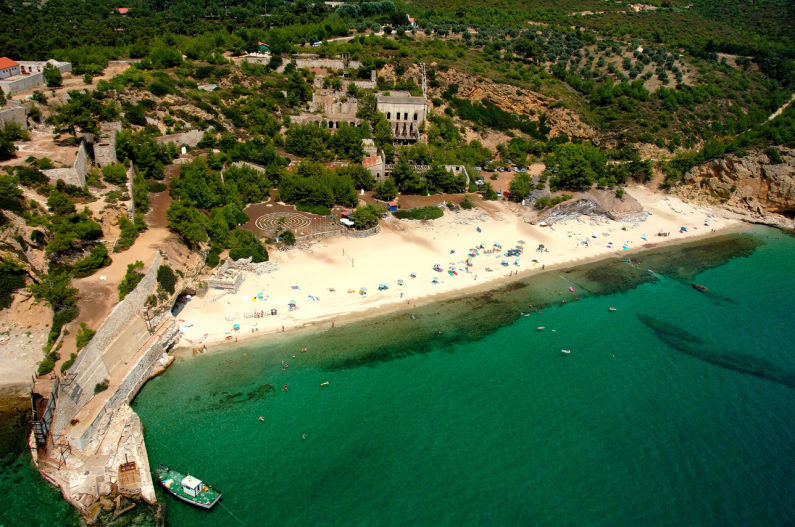 Most of the beaches are near seaside communities where there are organized hotels and rooms to let, offering accommodation to the visitors of the island.
The beaches of Thassos offer a variety of activities such as - sea sports, fishing and scuba diving.
~ Mountain Villages ~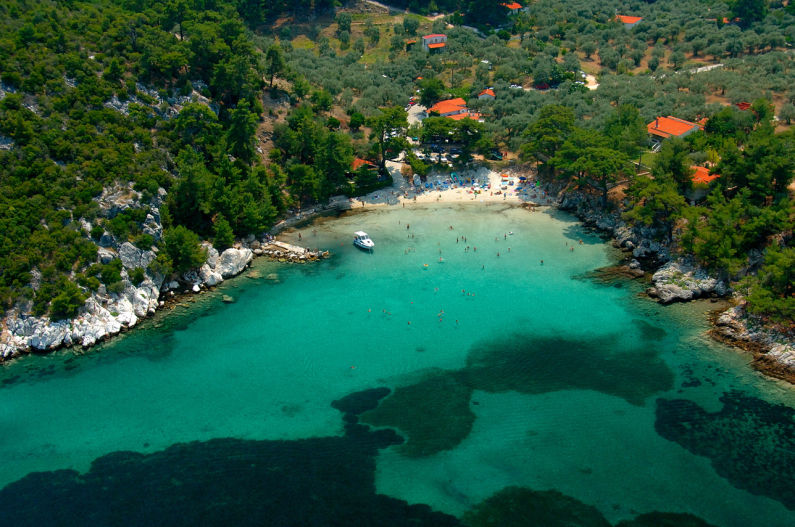 Apart from the very famous beaches, Thassos Island has a reputation for its traditional mountain settlements. Some of the mountain settlements of Thassos, with particular Macedonian architecture, slab roads and cobblestone pavements, flowery yards and gardens, waters and rich vegetation are :
The village of Panagia, with the homonymous church from which the village took its name; Potamia with the Polygnotos Vagis Museum; village Maries, the foundation of which is dated back to the Byzantine years with the monastery of Panagouda; the village Callirachi, which, according to tradition, was built after the destruction of the original village Kaki Rachi by the pirates; the village Sotiras, where, according to tradition, there was a settlement with a sanctuary in the honor of Thassios Iraklis; Megalos Prinos (Megalo Kazaviti) and Small Prinos (Mikro Kazaviti). Rachoni and Agios Georgios are surrounded by a forest. The Mountain settlements of Thassos Island provide numerous services to the visitors (accommodation, catering, transport)
The region between Mikro Kazaviti, Maries and Theologos, at the verdurous mountain Ypsario, is a place suitable for walking or touring by 4x4 vehicles, off-road motorcycles or mountain bikes.
~ Traditional Products - Markets ~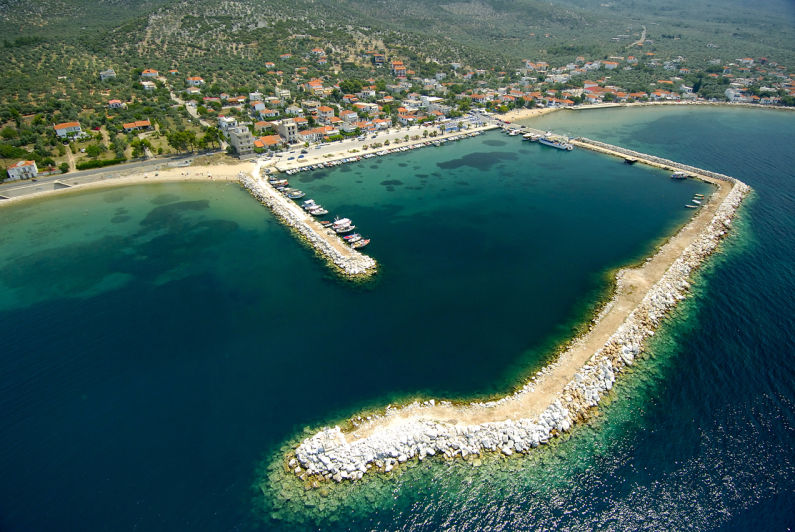 A rich market of local and imported products serves the visitors of the Thassos island.
Honey, oil, troumbes olives (wrinkled black olives), Greek spoon sweets, the most famous being those with nuts, figs and marrows made with honey are some of the famous local products.
If you want to buy local and traditional products you can visit the Apiarian Cooperative of Thassos at Prinos for honey , the Distillery of Thassos, Vamvoura, at Potos for liquer produced by traditional methods from fruits of Thassos island, the workshop of Sourini at Theologos, where spoon sweets and wine are made, and Melissa, a workshop at Limenas for olives, honey and spoon sweets.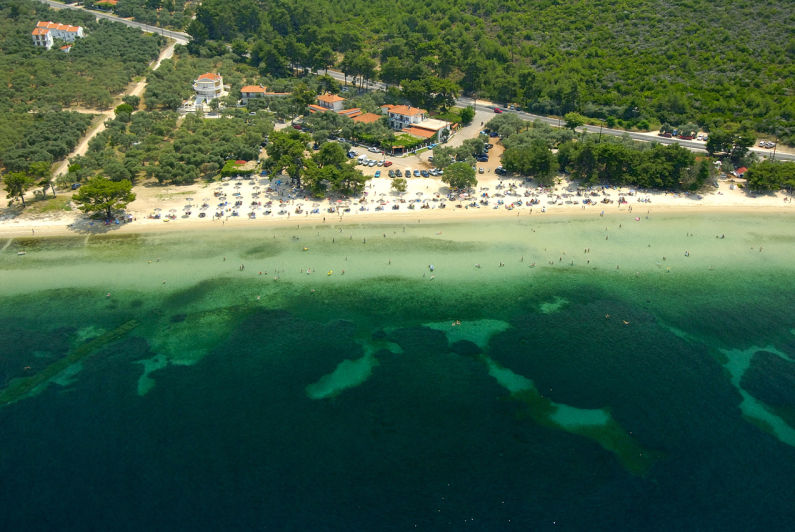 ~ Events, Folkloric Festivals & Happenings ~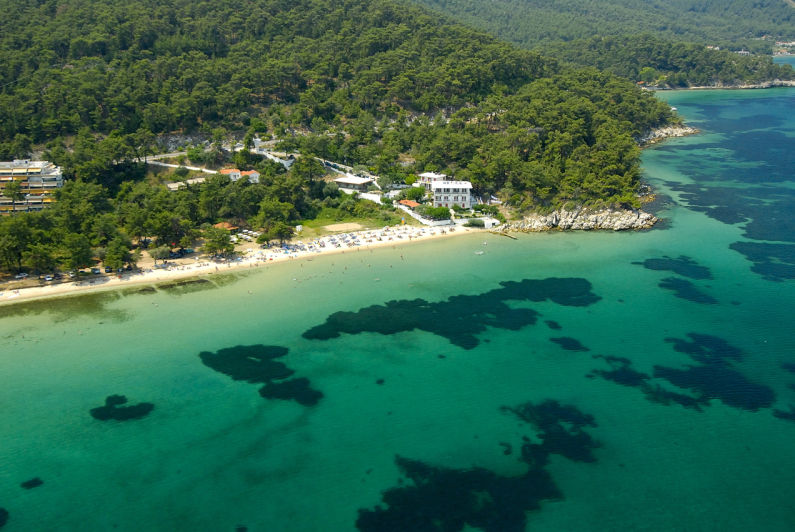 The Thassos Festival is held every summer from June till September and includes events that are carried out at the Ancient Theater of Thassos and at Limenaria.The festival is organized by the Municipal Culture and Tourism Company, Thassos, "De.Po.Ta".
On Ash Monday, the Carnival of Thassos is organized at Panagia by the Municipality of Thassos and the local association "Bakchos" and the Kazavitiana at Mikro Kazaviti. They are held in July and August.
Folkloric Festivals and happenings: the custom of pepper; "My April, rain" on the third day of Easter at Kalyvia, Limenaria; on the 29th of august at Prinos; on the 27th of July at Monastiraki and Megalo Kazaviti; on the 15th of August at Panagia and Rachoni; at Potamia of Zoodochos Pigi on the Friday after Easter; the feast of Saint Dimitrios and the traditional Thassos wedding in mid July at Theologos; on the 20th of July at Rachoni and on the 28th of June at Kazaviti. The traditional meal "Kourbani" is offered at almost all local folkloric festivals in Thassos.
~ Restaurants and Taverns in Thassos Island ~
In Thassos the visitor may select among the several choices offered by restaurants, fish taverns, grill house, cafes bars, clubs, pubs.
It is worth tasting the fresh fish and sea-food, the "liokafto" (sun dried fish), mackerel sona (grilled mackerel), sun dried octopus, sausages produced in Thassos, lamb and goat grilled over charcoal.
An offer for restaurants and taverns from Thassos island can be found on the site's Attractions page.
Thassos Greece Thassos Offers
Thassos Island is the northernmost Greek island situated in the Aegean Sea, the nearest of Romania, less than 600 km from Bucharest.

Thassos Island also known as "Emerald Isle" because of its rich forests is a place of rare beauty, with a history to match. Whether you're sporty, you love nature or like to have fun, Thassos will give you all the ingredients for a perfect stay. Mountain, sea and abundant vegetation make up the scenery of wild beauty in Thassos!

The beautiful mountain panorama in Thassos, distinctly clear and calm sea, archaeological remains, museums and monasteries, but also sports fields, taverns, bars, or souvenir shops are promises for a memorable vacation.

In each of the localities found along the road that surrounds Thassos Island, ancient remains alongside modern constructions can be found, fishermen with very old boats, but also owners of modern boats, old Greeks who count rosary in front of a coffee but also defiant bikers. But like anywhere else in Greece combines the old with the new is not so harmoniously as in Thassos. Therefore Thassos love both young and older ones being able to fully meet the demands of tourists both offered accommodation in villas, hotels, apartments, hostels and about beaches, entertainment, sport or food.

This site facilitates access to good quality accommodation to international tourists who want to spend a holiday in Thassos. Accommodation on the island is through rental: hotel rooms, studio (sleeping room that contains a kitchen and bathroom); apartments (sleeping room, a living room with sofa bed, kitchen and bathroom); villas ( more bedrooms, dining room, several bathrooms). The most demanding customers can find in Thassos Island locations in 4 or 5 star hotels.

Tariffs for accommodation in Thassos vary depending on the year period, villas' facilities and distance to beaches of Thassos Island. Villas locations offered for accommodation in Thassos are carefully chosen so as to satisfy the most demanding requirements. The list of accommodation venues in villas, studios, rooms, apartments in Thassos island will be filled with new locations and you will have permanent accommodation rates consistent with promotions offered by their owners.

Access to Thassos Island is impractical by flight as airplane flights go Bucharest - Athens, Athens - Keramoti or Bucharest - Thessaloniki and transfer by car to Kavala or Keramoti. The easiest access to Thassos Island is achieved by crossing Bulgaria by car and ferryboat through one of two ports in northern Greece, located on the Aegean coast: Kavala or Keramoti.

Since 2010 through opening the new border point between Bulgaria and Greece between Zlatograd-Thermes facilitates tourists access in northern Greece and implicit in Thassos Island, the road between Thassos and Bucharest is 590 km. On september 9, 2013 was opened a new border crossing between Greece and Bulgaria at Makazza - Nimfea. This is the shortest route between Bucharest and Tassos island and takes up about 7 hours drive.

Remember about Thassos island Greece. Accommodation offers Thassos from Thassos Island.

Thassos Greece is a tourist destination increasingly sought-after by international tourists. To achieve a successful stay in Thassos you must study carefully the offer or offers for accommodation in Thassos Island. Accommodation can be realized in an exclusive villa or villas with several apartments and rooms. The rooms and apartments in villas and hostels are very comfortable. A room or apartment in a hotel in Thassos differs from a room or apartment in a villa through the lack of a kitchenette. Hence the advantage for accommodation in an apartment in a villa in Thassos, which is the ideal solution to obtain a successful holiday in Thassos. To start well your holiday in Thassos it is better to study a forum about the island island and to establish a route map coming to Thassos. Moreover, study which routes you can follow in Thassos island in order to discover all its beauties.

Thassos Offer for cultural events that will occur can be studied in advance. To obtain a holiday in Thassos this year it's good to check if the offer from previous years for villas and hotels is still available in 2018. Numerous villas, apartments and rooms are built in Thassos island to ensure your accommodation. Therefore, our offers for Thassos whether they are in exclusive villas, apartments and rooms are situated in new locations as new as possible, some of them being completed right now. On this website there are accommodation offers for Easter 2018. Considering all of the above mentioned information, Thassos-Greece is a tourist destination that you will certainly not forget !

.

~ We wish you a memorable stay ~

For more details on a possible accommodation in Thassos Greece and offers you can contact us throughout the year. See you in Thassos, Greece Thassos.